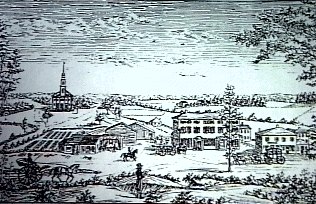 Framingham Common, 1808
Lithograph by M.M. Kendall after Panting by Daniel Bell
©Framingham Historical Society
The following stories on community life were produced by WBUR-FM in Boston, an NPR station. The material WBUR News gathered in Framingham, Massachusetts, not only tells the story of this New England town but points to some common issues and problems that exist in other parts of the country as well.
Now with Sound Clips!
Framingham and Community
What is this new buzzword community? What does it mean, does it work and how does an expanding, changing town create a sense of community?
Framingham and Town Hall Government
What does a town do when it outgrows its town hall form of government?
Framingham and Jobs
The manufacturing jobs are gone. What now?
---
Return to Democracy Forum Home Page